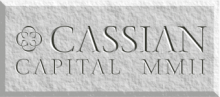 Cassian Capital LLP
Regulated by the FSA

c/o 16 Barness Court
6-8 Westbourne Terrace
London, W2 3UW

Tel: +44 (0)20 7402 9476
Email: info@cassiancapital.com
Disclaimer
The information contained in this website is issued by Cassian Capital LLP, which is authorised and regulated by the Financial Services Authority in the conduct of its investment business. It is provided for information purposes only and does not constitute an offer to see or a solicitation of an offer to buy or sell any security or to provide any service in, or to persons from, the following jurisdictions: the United States and Switzerland or certain categories of customer.
U.S. and Swiss persons and certain categories of customer may neither directly nor indirectly access the website. All information on this website is directed only at non-U.S. and non-Swiss persons.
The information provided is not intended to provide a sufficient basis on which to make an investment decision. It may not be distributed to any other person or reproduced.
By accessing this website, you agree to the foregoing terms and conditions and certify that (1) You are not a U.S. or Swiss person and (2) All information you provide is true and correct.
Cassian Capital Fund I is organised as an exempted company incorporated with limited liability in the Cayman Islands and registered as a mutual fund under the Mutual Funds Law (2001 Revision) of the Cayman Islands. The investment activities of the Fund are not regulated or otherwise overseen by either the government of the Cayman Islands or any other financial regulator.
Information and opinions presented in any material have been obtained or derived from sources believed by Cassian Capital LLP to be reliable, but Cassian Capital LLP makes no representation as to their accuracy or completeness. Cassian Capital LLP accepts no liability for loss arising from the use of this material.
Cassian Capital Fund I is defined as an "Unregulated Collective Investment Scheme" ("UCIS") and the promotion of a UCIS either within the UK or from the UK is severely restricted by statute. Consequently, this site is directed exclusively at persons who are experienced or existing investors in unregulated collective investment schemes, who are intermediate customers as defined by the rules of the Financial Services Authority or are otherwise eligible under these rules. It is not intended for private customers and such persons should not rely on this material. Moreover, any investment or service to which this material may relate will not be made available to such private customers.
Shares in Cassian Capital Fund I should only be purchased by persons with professional experience of participating in unregulated schemes and any other person who accesses this site should not rely upon it.